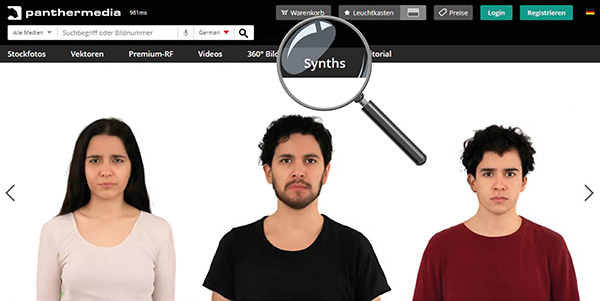 HISTORIC LAUNCH OF AI GENERATED CONTENT WITH PARTNER "VAISUAL"!
Innovation for max creativity
May we introduce ourselves? We don't exist! That's why you can do practically anything you want with us! And there is nobody that could complain. Isn't that great? I can have a cold or a headache. Be sick. Be angry. Or be nice. You decide. Each portrait has been generated on a white or green background, making it easy for users to integrate these synthetic elements into real life photography backgrounds to create wholly unique content. With our new partner vAIsual - the creator of the Synthetic Humans Collection - we are one of the first stock agencies in the world to be able to offer AI-generated images for safe commercial use!
No model related restrictions
Beside the fascinating art aspect, no model releases are required for AI-generated images! There are no restrictions, even in the field of sensitive subjects. This opens up completely new possibilities in terms of safe use and, above all, enables a much faster workflow.

Sensitive subjects related to pharmaceuticals or medicine and similar couldn't easily be realized with model release images. Synthetic images, on the other hand, don't even need any clearance. So here you can create virtually freely without worries!

The Extended License!
The standard license doesn't always cover everything. That's where the extended license comes in. Get all information about our licenses here! Take a look!

If you no longer wish to receive this email, you can unsubscribe here for free.

Panther Media GmbH
Rüdesheimer Str. 11
80686 Munich
Germany
+498920002130